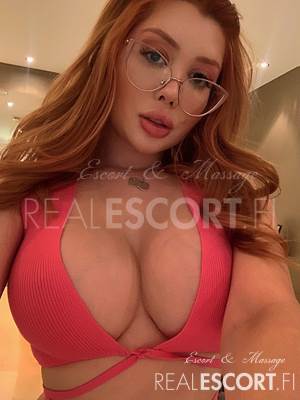 L'annuncio è stato convalidato come immagine 2 giorni fa
❤️ Sophia ❤️
Ora si trova a Helsinki (Helsingfors)
Info:
Colore degli occhi
Marrone
Prezzi:
Recensioni: Valutazione generale
Buono: 30 | Cattivo: 1
Descrizione
Hello gentleman, allow me to introduce myself.
I'm Sophia, a beautiful and delicate companion. You'll be in the company of a lady who is sophisticated and professional, but doesn't ever take life too seriously.
I have long red hair, incredibly smooth skin, a unique smile and delicious curves you can't wait to have in your arms. Why not start with a good bottle of wine before we slip into bed?
I love foreplay to get to know each other well, like kissing passionately, taking a shower together, and doing an erotic oil massage. I'm very GFE, super vanilla, just like a girlfriend would be 😝
I offer dinner dates if you want something more chill without any rush (2h of dinner and 1h in bedroom)

❣️ In Helsinki my incall is a comfortable and discreet apartment in Ullanlinna, 500m from train station and it has a jacuzzi 🥰
❣️ I provide towels, shampoo, toothbrush etc so you don't need to worry if you come right after work
❣️ Photos are recent and you can check my videos, also recent
❣️ My preferred method of contact is whatsapp, no calls
❣️ I'm 100% independent, no agency, so I take some time to reply because I don't like being on my phone during appointments - thank you for your patience 🙏🏻
❣️ If I haven't seen my whatsapp in a while it means I'm either in a long booking (whole day, for example) or taking a day off. I'll reply when I'm back. Day off is usually Wednesday but might change according to my schedule. I know some of you don't like this and want a reply right away but keep in mind it's much better to meet a girl that actually sleeps and rests than one that is working 24/7 and always tired
❣️ I'll usually be wearing a dress and high heels when we meet but I'm happy to do clothing requests. I have lots of lingerie, stockings, gym clothes, bunny costume etc
❣️ Don't ask for sex without condom or discount. The answer is no
❣️ Reviews are highly appreciated
❣️ I'm no longer offering 30 minutes and I most definitely don't offer "quick bj", minimum time available is 1h and longer appointments are prioritized so we can properly get to know each other

‼️ Booking etiquette ‼️
Please text me a brief introduction with your name, time and date you wish to book an appointment, services you want and any clothing requests you might have. I advise you book a few days in advance for more availability. Same day and last minute appointements are usually not possible but you can still try as sometimes I have cancellations 😊
I pick my clients by politeness, not physical appearance, so if you seem like a nice and polite person you are guaranteed to get a booking. I do enjoy the company of smart men that I can talk to, though, so I'm unable to book you if you keep texting "hi hi hi", "bb address?", "available now?" or if you keep insistently calling me. Please show me you did read my ad, even though it's big 😅

Thanks 🥰 can't wait to meet you
Contatti
Accetta sms: Sì
Accettare i messaggi di WhatsApp: Sì
Rispondo a numeri anonimi: No
Ho trovato il tuo annuncio su RealEscort
Parlo:
English: Bene
French: Piccolo
Spanish: Piccolo
---
Ti prego, dimmi che hai trovato il mio annuncio su www.realescort.fi
General Warning!
NEVER SEND MONEY IN ADVANCE if you book a meeting or service!
These ads are mostly and probably SCAM. They usually require your verification as a new client
by sending a certain amount of money by Paysafecard, Coupons, Google play card, PayPal, Vipps, Wire transfer, Account to account etc.
This is a general warning we give to all visitors, it is not about this specific ad you are visiting.
I miei colleghi