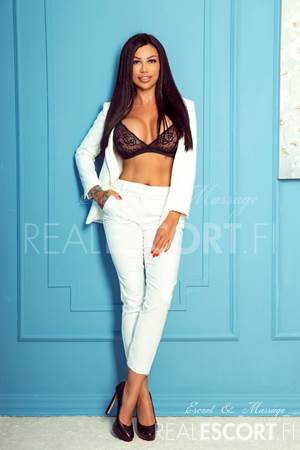 L'annuncio è stato convalidato come immagine 2 mesi fa
Kamila Polish Escort
Ora si trova a Espoo (Esbo)
Info:
Colore dei capelli
Marrone scuro
Prezzi:
Recensioni: Valutazione generale
Buono: 7 | Cattivo: 0
Descrizione
Please read the information about me and My Offer ,
I have provided All details for you here:


Please book appointment at least 2 hours in advance.
Booking one day before is also welcome 👌🏻
☎️ To facilitate our communication:
• Please introduce yourself : name, age, origin.
• Provide the exact time you want to meet.
• define the duration of the meeting
• what kind of service You choose
Be patient, I will answer as soon as possible.


WELCOME 🙋🏻‍♀️
My name is Kamila and I am Your neighborhood from Poland.
I have decided to combine my free time offering their services as a Luxury Escort for Gentleman who does not only appreciate an intimate encounter, but an exquisite company. Mix of beauty, brain and passion.
I am an appetizing company for men who expect remarkable pleasures behind the scenes of everyday life. I am a cultural and very elegant girl, both in clothes and manners. My service is my art and calling and reflect for all things sexy, embodied and pleasurable. An undeniable advantage is my original massage based on elements of tantra. I have magic hands, trust me 😉 I love to control this pleasure with a gentle touch.

❤️ Proposes a date-style meeting like lovers ❤️
I invite you to my apartment,
Here is a friendly atmosphere and in such a climate proposes to spend time together.. In my opinion a chemistry and mutual adoration between gives the best satisfaction. My service is all about attention to detail. Attitude is a key, treat me with kindness,
I promise You will get the best from me!


....................................................................

🦋🦋 CLASSIC SERVICE 🦋🦋

🔸long session lingam massage
🔸meeting as lovers
🔸body Kissing
🔸cudding
🔸sex with different position
🔸69 position
🔸orgasm control
🔸fantasy
🔸company
🔸blow job with condom
🔸High hells
🔸sexy lingerie

30 min - 120💶
45min - 180💶
60min - 220💶

French kissing - Extra 50💶
................................................................


🦋🦋🦋 PREMIUM SERVICE 🦋🦋🦋
🔸Tantra massage
🔸long session lingam massage
🔸meeting as lovers
🔸Deep throat
🔸Spanish sex (breast sex)
🔸body Kissing
🔸cum on body
🔸cum on breast
🔸Face sitting
🔸69 position
🔸cudding
🔸sex with different position
🔸orgasm control
🔸fantasy
🔸company
🔸blow job with condom
🔸High hells
🔸sexy lingerie

30min - 150💶
45min - 200💶
60min - 250💶
90min - 400💶 Sauna and shower together included
120min- 500💶 Sauna and shower together included

French kissing -Extra 50💶
............................................................................

* My additional French kissing service is quite an intimate part of the repertoire for me, so I will decide of this when we meet " face to face". You can prepare with an additional € 50, maybe our chemistry will explode from the first meeting :)
If You have some other special fantasy  ... I will be attentive and carry out all of your reasonable requests, feel free to ask! I'm definitely not lazy and I'm not ashamed to be more active :)

🇫🇮My location
I value my time and reputation as a High Class Independent Companion. So with me you can expect only pleasant surprises !
I guarantee my own cozy,
conveniently equipped apartment in Espoo / Leppavaara.
-free parking outside
-soft drinks included
-shower, fresh towels, shower gel ,all cosmetics
mouthwash etc. will always be available for You.

⏰ WORKING HOURS:
I am available from 12:00 to 20:30.
To book an appointment, please notify me at least 2 hours in advance , so that I have possibility to prepair myself for Your visit.

🌹We can also meet earlier in the morning
(eg. at 10:00am - but I only give this option to a client I already know. In this case, I invite you to book the meeting at least one day in advance).

📱 Please contact me by text message or WhatsApp as due to privacy and discretion I cannot always use my mobile phone when I am outside.

⚠️ I expect respect from my client, first of all, compliance with certain rules, so please do not ask for a discount! I offer seriousness and professionalism, my rates are non-negotiable.

👫🏻Dear customers,
I've been here for 4 years so of course I have my own experience.
I guarantee a date as lovers so of course I want to feel safe and comfortable in your company. Please respect this, that I have right to choose my clients with whom I want to work or not.
I'm not a racist so please don't be offended if I gonna refuse You.

‼️ONLY SAFE SERVICE ALL WITH PROTECTION ‼️
  The higiene and health of both of Us is my priority!
From a Man who would like to enjoy my company, I expect the same.

✔️ I don't drink alcohol, I don't smoke.
A sober and non-smoker client is warm welcome.

✖️ No hidden numbers
✖️ I not arrange short meetings like a 15-20 min
✖️ Kindly please not ask for :
owo, cim, cof, rimming, golden shower, fingering or anal.

Hope to see you soon.
Love & kisses

Kamila
Contatti
Accetta sms: Sì
Accettare i messaggi di WhatsApp: Sì
Rispondo a numeri anonimi: No
Ho trovato il tuo annuncio su RealEscort
Parlo:
English: Bene
Polish: Bene
German: Bene
Russian: Bene
---
Ti prego, dimmi che hai trovato il mio annuncio su www.realescort.fi
General Warning!
NEVER SEND MONEY IN ADVANCE if you book an escort service!
These ads are mostly and probably SCAM. They usually require your verification as a new client
by sending a certain amount of money by Paysafecard, coupons, Google play card, PayPal etc.
This is a general warning we give to all visitors, it is not about this specific ad you are visiting.